Great job to all the team members and mentors who attended this exciting event!! Thank you to all of the sponsors who donated money and supplies so that this could be possible. We couldn't have done this without YOU!
We got to Kansas City on Wednesday night to check into our hotel and to bring the robot in. Thursday morning we drove to the arena, set up the pit, and put the robot together. Then we got to pit scout and do some practice matches. Shout out to Team 4646 for a wonderful dinner on Thursday night! It was great to be able to meet your team.
On Friday we had eight qualification matches. You can see the outcomes of those here: http://www.thebluealliance.com/team/3928. We won all but one, and this placed us in seed 5. A highlight of everyone's day was our 300 point match with teams 118 Robonauts and 1986 Team Titanium. It was the highest scoring match of the day!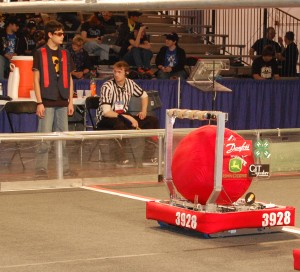 Saturday was a great end to our experience! Although we lost two of our three qualification matches that day, we were seeded 9th, and ended up being captains of the 6th alliance with alliance partners 2410 and 3172. It was great working with you! This was an awesome chance to prepare our team for our regional next week at North Star. Thanks again to all who stayed updated on our Twitter feed!