Game Overview
Destination Deep Space is the 2019 FIRST Robotics Competition game. There was no "autonomous mode" this year, and FIRST opted instead to allow drive teams to drive blind behind a curtain for the time typically set for autonomous mode and called this the "Sandstorm." Alliances of three robots each place patch panels on the 2 rocket ships or the 1 cargo ship. They proceed to fill up the ships with cargo for additional points. During the end game, the robots return to their habitation (hab) zones and "climb" up for a level 1-3 climb. More information can be found on Wikipedia or watch the game animation.
---
Our Robot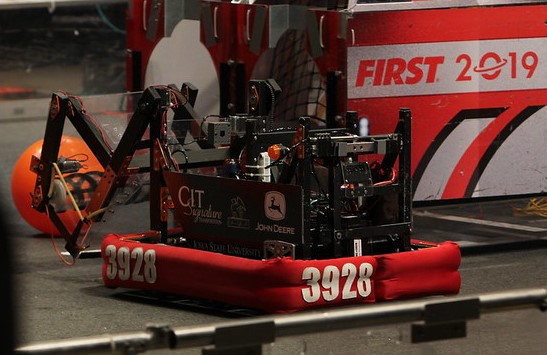 This year, we built a low profile robot, with our main focus on scoring on the cargo ship and the lower component of the rockets. This year was very fun, from our discovery on our intake grip to the frog like mechanics of our end game climb. With this robot, we won the Engineering Inspiration Award at the Seven Rivers Regional Competition and placed first in Cow Town ThrowDown. Watch our Robot Reveal!
Size: 22″x30″x24″ | Weight: 100 lbs | Drive Train: Tank Drive – 6 traction wheels w/drop center – 4 CIMs – Max Speed: 14′ per second | Fisheye camera for reliable sandstorm and teleoperating scoring | Arm: Can sore in all low zones – Can score on both sides of the robot | Cargo Intake: Over the bumper | Hatch Mechanism: Can score in all low zones – Active release | Climber: 0 sec (post-match) climb – Is triggered by gas shocks
---
Competitions
This year 3928 attended the Iowa Regional, held in Cedar Falls. Thanks to consistent and quick cargo shooting, a level three climber, and wonderful alliance partners, Team Neutrino had an 8-2 match record and ranked 3rd by the end of qualification matches. The team was captain of the 2nd seed alliance, with teams 1732 and 904 as alliance partners. After defeating the 7th seed alliance in the quarterfinals, we had a narrow loss to the 3rd seed alliance in semifinal matches. At closing ceremonies, Team Neutrino was awarded the Quality award, which celebrates "machine robustness in concept and fabrication." Nitzan Friedberg, our Design Manager, was nominated to be Dean's List Finalist.
The Seven Rivers Regional in La Crosse, Wisconsin was the second and final regional of our 2019 Season. After 90 qualification matches, the team ranked 16th and was chosen for the 8th seed alliance with alliance captain 171 and team 2081. While putting up a strong fight in quarterfinals, we ultimately lost to the 1st seed alliance of 1986, 2481, and 5914. At the regional, Team Neutrino was awarded the Engineering Inspiration Award, which "celebrates outstanding success in advancing respect and appreciation for engineering within a team's school and community." Winning EI qualified the team for the 2019 World Championships in Detroit and paid for our registration fee with a $5000 grant from NASA. We were extremely proud and humbled to have won this award for the third time in our team's history.
At the Detroit World Championships, Team Neutrino competed in the Archimedes Division. Despite not placing in alliance selection, we had a blast meeting teams from across the world, watching division playoffs, and seeing the other divisions of FIRST at the Championship!
---
Chairman's
This year our essay's theme revolved around coming full circle with FIRST Robotics. The FIRST 90° focused on how we share the FIRST love within our community by developing our brand. The FIRST 180° focused on our volunteerism efforts to give back to our communities that our members live in. The FIRST 270° highlighted our struggles after losing our main partner and successes in developing new partnerships through 4-H and Iowa State University. And finally to wrap it up the FIRST 360° brought us home with some words of wisdom. Read our complete chairman's submission.
---
The Team
Students
Basmala A, Rida A, Avery C, Xander C, Charles D, Matthew H, Sam K, Quinn M, Claudia M, Ryan P, Emily P, Alex R, Alanna S, Lauralee T, Abby T, Aileen L, Maab S, Josiah S, Steve F, Nitzan F, Dane P, Indy P, Sayre S, Connor S, Simeon S, Moriah C, Jacob P, Joel N, Nick S, Preston S.
Mentors
Eric, Chris, Kevin, Ben, Mike C, Anne, Mark, Rory, Jia Wen, Hans, David M, Dagney, Jeanne, Michael, Jordan, David R, Taylor, Rose, Stacia, Brian, Daniel, Josh, Sarah
---
Sponsors
We would like to thank our sponsors who sponsored us during the season for their contribution to the team.
Diamond
---
Wrap Up
---
Additional Season Content