Game Overview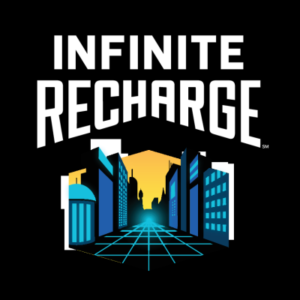 In INFINITE RECHARGE, two alliances work to protect FIRST City from approaching asteroids caused by a distant space skirmish. Each Alliance, along with their trusty droids, race to collect and score Power Cells in order to energize their Shield Generator for maximum protection. To activate stages of the Shield Generator, droids manipulate their Control Panels after scoring a specific number of Power Cells. Near the end of the match, droids race to their Rendezvous Point to get their Shield Generator operational in order to protect the city!
---
Our Robot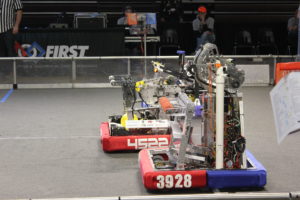 We built a tall shooter that could score power cells in the tall goal. The robot had a hood shooter and hit the inner tall goal consistently. The intake was attached with velcro to help assist in gripping the balls when picking them up on the playing field. A hopper was installed to stop balls from getting clogged when moving the balls into the tower. Our robot was able to climb using a hook mechanism. We used with a tank drive for this robot. With this robot we placed won the Greater Kansas City Regional and unfortunately Champs was cancelled.
---
Competitions
In 2020 we competed at Greater Kansas City Regional where we won 1st place as the alliance captain with Team 4499 The Highlanders and Team 1982 Cougar Robotics. We also won the Engineering Inspiration award. Maab Salim earned Dean's List finalist which was suspended. We qualified for Championship but the event was cancelled due to Covid. Cow Town ThrowDown was also cancelled due to Covid.
---
Chairman's
Read our Chairman's Essay
---
The Team
Basmala A, Rida A, Zak B, Avery C, Xander C, David D, Charles C, Steve F, Nitzan F, Lyra H, Matthew H, Henry K, Sam K, Leslie K, Mikayla L, Jixiang L, Humza M, Quinn M, Peter M, Claudia M, Ian N, Ryan P, Dane P, Indelisio P, Alex R, Maab S, Sayre S, Stuart S, Alanna S, Connor S, Josiah S, Simeon S, Lauralee T, Abby T, Jacob X.
---
Other