Game Overview
Infinite Recharge at Home is a continued game from 2020 due to COVID-19. With many aspects of the 2020 game: Infinite Recharge, Infinite Recharge at Home events were brought to teams in 2 ways. Judged Awards and Skills Competition. In Skills Competition, teams demonstrated what their robot and drivers could do in a Skills Competition inspired by the Infinite Recharge game. The Judged Awards included a new Innovation Challenge where Teams tackled real world problems regarding fitness and sought to find a solution and the traditional Chairman's Award. More information can be found on Wikipedia or watch the game animation.
---
Our Robot
This year our robot stayed relatively similar to last year's with a few changes and a Team Neutrino color scheme! We had a tall shooter built towards scoring power cells in the tall goal. We added an adjustable shooter hood on the top of our shooter to allow us to score in the inner tall goal across various locations on the playing field. The intake was updated and more sophisticated, which resulted in fewer power cells clogging and getting stuck. With our limelight, we were able to track power cells and use them to determine autonomous paths. We stayed with a tank drive and our climber was a grappling hook. With this robot we placed first in our Nickel Group.
---
Competitions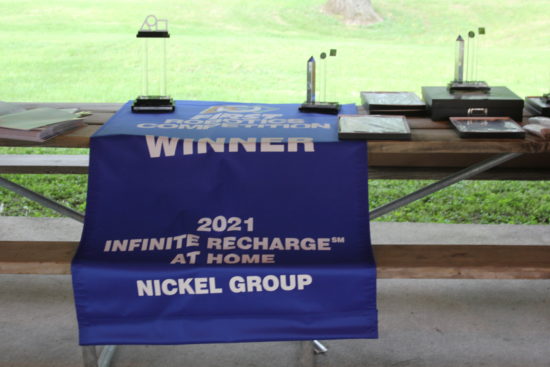 This year as competition moved virtual, Team Neutrino moved into a barn to continue working on the FRC game compromising around the difficulties. Congratulations to Team Neutrino for their hard work during the 2021 season. The team successfully submitted Judge Awards and competed in the various skills challenges for Infinite Recharge at Home. This year team members adapted the 2020 robot for the at-home challenges, which was a great experience for new members to learn about the design process and for current members to iterate and improve current mechanisms. The team submitted documentation of the robot for the judged awards and competed in skills challenges that tested the abilities of their robot from autonomous path following to the accuracy and precision of the shooter. Team Neutrino ended up ranking 1st in our Skills Challenge group, winning the team a blue banner and internationally the team ranked 17th internationally among 1400+ teams. Most importantly, the team has continued to offer valuable engineering opportunities for the members throughout this season.
---
Chairman's Award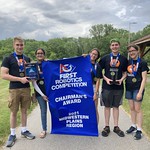 Congratulations to everyone who worked hard on the Chairman's. We won our regional Chairman's award!
Neutrino has been forging a legacy since 2011, tempered through dedication by both team members and mentors. Over the past years, Neutrino has implemented a few strategies to keep the team in check. Neutrino has a steady Leadership Core, summer training camps, and various outreach events throughout the year. To allow more participation in FIRST, Neutrino has also introduced an associate role to the team. Due to COVID and the pandemic, Neutrino has faced many challenges this past year. But as a team, Neutrino has found light in the darkness and started to create STEAM videos for their community, reaching borders beyond where they live, living up to the Neutrino Legacy. Read the Chairman's Essay 2021
---
The Team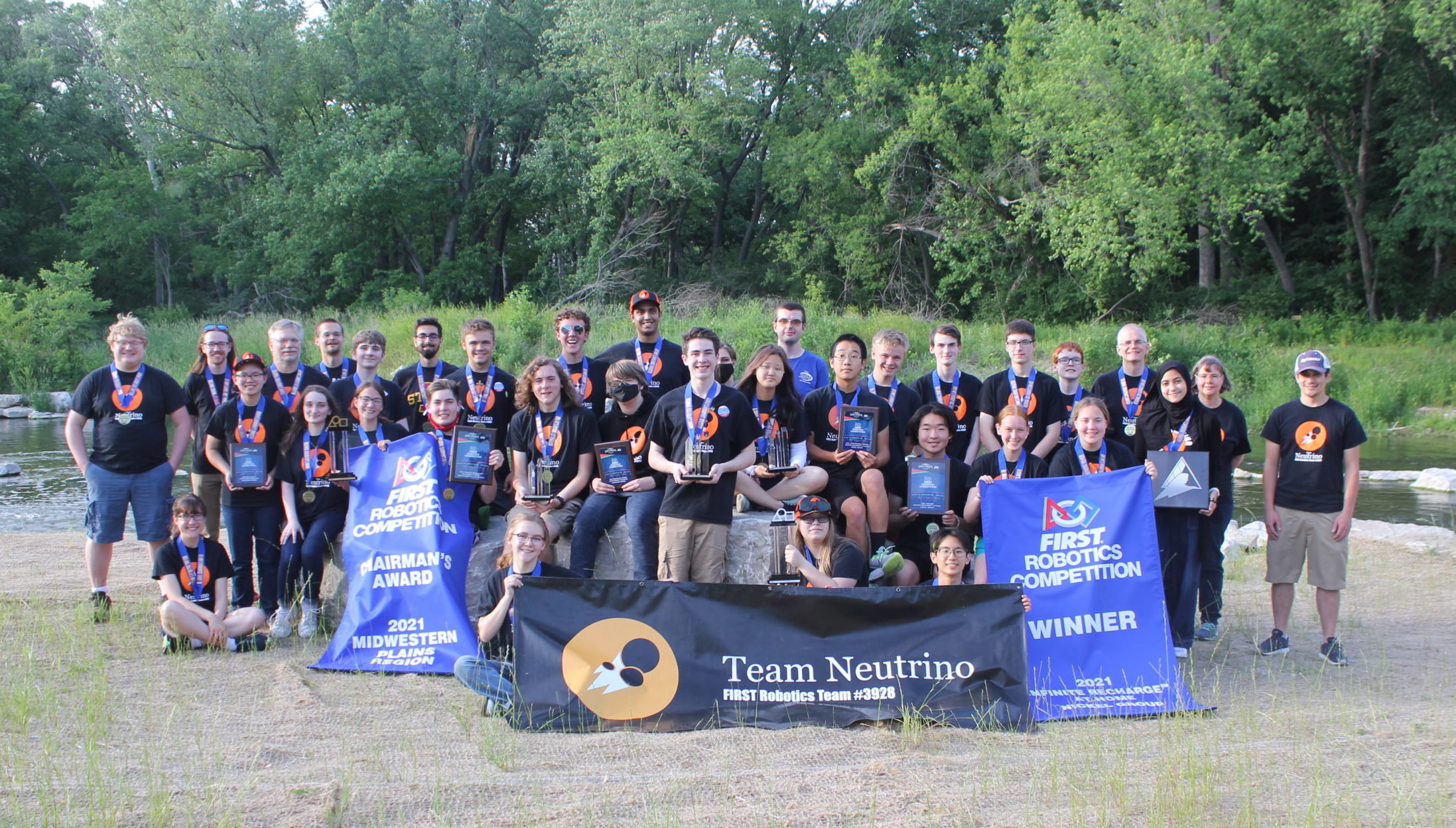 Students
Basmala A, Rida A, David D, Charles D, Quinn H, Lyra H, Matthew H, Henry K, Sam K, Leslie K, Mikayla L, David L, Jixiang L, Anton L, Humza M, Quinn M, Peter M, Becky M, Claudia M, Ian N, Ryan P, Alex R, Maab S, Salim S, Stuart S, Alanna S, Josiah S, Cade T, Lauralee T, Abby T, Noah W, Cale W, Jacob X.
Mentors
Lexi B, Michael C, Andrew G, John H, Nate K, Mike L, Dagney P, Jeanne P, David R, Mike S, Taylor S, Brian S, Stacia S, Timothy S.
Sponsors
We would like to thank our sponsors for helping us during the pandemic when we needed it most.
Platinum: Bayer Fund (Monsato) | Danfoss | 3M
Gold: John Deere | Alliant Energy Foundation | REG | Frontline BioEnergy | HNTB Kansas City
Silver: Ludicrous Creations | Kemin | Interstate Batteries
Bronze: NASA
Partners: Iowa State University Extension/Story County 4-H | ISU Robotics Club | Iowa State University Boyd Lab
Wrap Up
Additional Season Content
Infinite Recharge at Home (Robot Challenge)