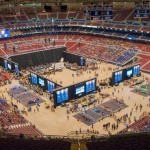 Team Neutrino was elated to compete in this year's FIRST Championships. All four FIRST programs were present, including Jr. FLL, FLL, FTC, and FRC. It was a very exciting event, as you can imagine, with more than 600 teams from 38 countries packed into the Georgia Dome in St. Louis, MO.
The team drove down on Wednesday morning, arriving just in time to assemble the robot and do our pit scouting. It was amazing to see what all the FRC teams had come up with! Then we had dinner and checked into our hotel.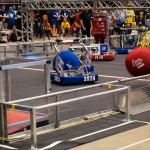 On Thursday, we woke up bright and early so we could get to the dome for the start of qualification matches. (We were in the very first match of the day!) Our team had a win/loss record of 4-1-0. Friday was also qualification matches, and our record at the end of the day was 6-3-0.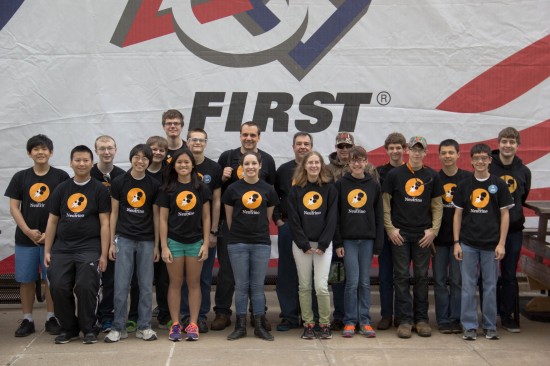 Saturday was an awesome end to our trip!! We started out by loosing our last qualification match, but during alliance selection, we were picked to be the 4th robot on the 4th seed alliance (on Newton)! It was great to be able to play with Team Titanium, Team Kiki Mana, and S.W.A.T.! Sadly, during elimination rounds, Team Titanium's drive train was unable to be fixed, and so we had to substitute our robot in during the semifinals. Our alliance lost to the 1st seed,
but won in the second match, forcing a tiebreaker round!! We ended up being semifinalists on the Newton field (similar to the Sweet 16 in March Madness). Then we packed up and went to the other side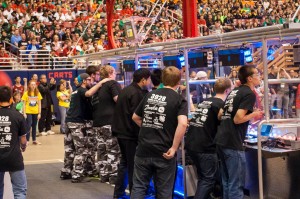 of the dome to watch the Einstein matches. Congratulations to team 27 for winning the global Chairman's award, and to teams 1678, 1114, 1640, and 5136 for representing Newton field in the final matches! Also, congratulations to teams 254, 469, 2848, and 74 for winning the competition.
It was nice to be able to relax on the ride home and finally get some sleep. Thank you to all who helped put the event together and making it a week we'll all remember for years to come!