Update: Talk about our teaser with us on Chief Delphi. Share your thoughts & join in on the guessing!
Sunday
A wonderful horrible winter storm hit today. A few people made it into the shop today to continue work on fabrication.
Monday
This morning Aren sent in our CAD parts to be fabricated by our amazing fabrication sponsor, Quality Manufacturing! Quality Manufacturing is a GREAT company that not only is sponsoring us this year, but they also picked up the newly formed Ankeny Team #4646 as well. We can't thank you guys enough for all you do! We made the frisbee pick up mounts and prototyped our alignment system. One of our members also loaded the rest of our belongings that were in Christy Hall into their car.
Tuesday
Today we mounted our electronics on our practice bot, along with unloading our stuff from the member's car into our storage area. Alex, Bojun, and David continued designing parts for Kraken in MasterCAM that were made on the CNC.
Wednesday
Iowa's wonderful horrible winter weather hit last night again, leading to freezing weather today and a snow day for everyone except the parents. There were about 3 people working on assembly today.
Thursday
We started mounting electronics on our practice bot, along with finishing up assembling drivetrain modules.
Friday
Things have been really coming together! Tonight we ran on caffeine until 10. We got the practice bot up and running along with the basic pneumatics working! It's so nice to have an awesome practice bot! We also mounted the speed controllers as well.
Saturday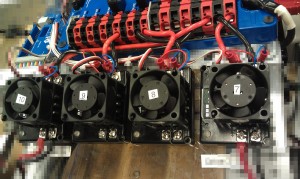 Wow! Today was a busy day in Boyd Lab. We finished mounting and running most of the electronics that we could for our drive train on the competition robot. It's getting exciting! We really shortened things up this year to make them super nice. We also started prepping pneumatics & running some tubing as well. We can't wait to get our parts back from Quality to construct Kraken, shooter, and the other systems we have. Our goal is to have the competition robot complete by the end of next week. Included is a "teaser" of our robot of our beautiful wiring that we have completed so far. The pyramid is almost complete as well. Until next week, go teams!