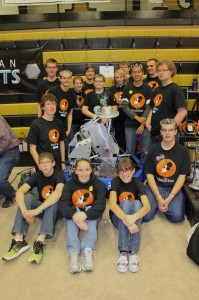 FIRST Robotics Team Neutrino #3928, a Story County 4-H team, attended the Cow Town Throwdown Robotics off season Invitational November 2nd and 3rd in Kansas City. The team is composed of 4-H'ers from Ames,
Ballard, and Nevada High Schools. Team Neutrino ended up being seeded 37th after dealing with various technical issues they encountered. They were selected by Team #2410, Metal Mustangs from Overland Park, Kansas, to serve on their alliance where they made it into the quarter-finals.
FIRST (For Inspiration and Recognition of Science and Technology) strives to inspire youth to become leaders in science and technology through engaging mentor-based programs. Team Neutrino competes in FIRST's Robotics Competitions, which brings youth together with professional mentors and Iowa State University students to build a robot from scratch in order to compete in that year's game.
Last year, Team Neutrino finished in eighth place out of forty-nine teams at the 2012 FIRST Robotics Midwest Regional in Chicago in March. The team also won a top rookie seed award in its first year of competition.
The team's next official FIRST challenge begins in January.
FRC (FIRST Robotics Competition) is one of the senior high options for students provided by FIRST. FTC (FIRST Tech Challenge) is another. Both of these programs can follow after Jr.FLL (Jr. FIRST Lego League) and FLL (FIRST Lego League). See www.usfirst.org for more information on the FIRST organization.
For more information on Team Neutrino please visit www.teamneutrino.org. For more information on the Story County 4-H FIRST Lego League Team, please email [email protected].