Introducing Cyclops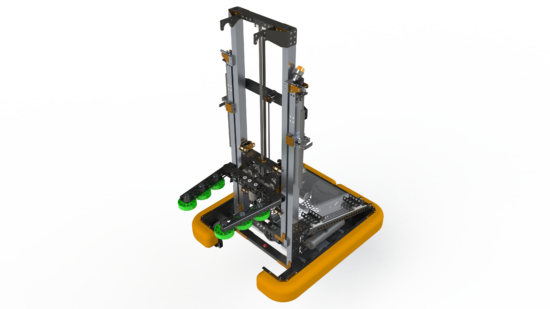 Click here for more renders of subsystems!
This year's robot, Cyclops, was designed with the goal of being able to deliver cubes to both the scale and switch, pick up cubes from the ground, deliver to the portal, and climb as well as assist another robot in climbing.
Specifications for the robot are as follows and are subject to change before competition:
Dimensions: 28″ x 33″ x 54.5″
Weight: 104 lbs*
Drivetrain: 8 wheel tank with 4 omni wheels and 4 colsons, driven by 4 CIMs. It has a 10 feet per second theoretical top speed.
Intake: 6 wheel compliant powered by 775pro*
Elevator: 2 stage cascade powered by 4 775pros with 21:1 reduction.
Climber/Ramp*: Powered by two 300 lb gas shocks with ability to carry one additional robot.*
* Indicates specification is subject to change before competition.